Forget the amateurish survey report of SurveyMonkey, SurveyGizmo, and others.
Try instead the professional alternative to expensive market research agencies: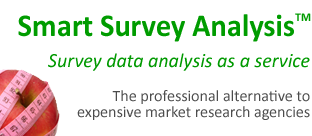 Survey reports like expensive market research agencies,
but for a fraction of what they charge.
When the survey reports of providers like SurveyMonkey, SurveyGizmo and the like are too simple
for your important surveys, or you don't have the time or the expertise to do it yourself,
try our Smart Survey Report service.
We make every report
a professional survey report you'll be proud to show.
MarketingStat – World leaders in survey reporting for lean budgets.