Why don't my SEO strategies increase website traffic?
Traditional SEO strategies are less effective than they used to be because, in order to manage a constantly growing crowd of web pages, search engine algorithms are becoming increasingly complex. As a result, creating SEO strategies to climb the search engine rank lists and attract relevant website visitors has become more challenging.
The old-style SEO approach of writing a bunch of text, repeating keywords in specific places, and so on – following all SEO-101 rules – is no longer enough.
Today, search engines place increasing importance on the semantic proximity of search strings. This is a concept Brin and Page mentioned back in 1998.
We believe most SEO consultants have simply ignored this concept due to its complexity.
But not MarketingStat.
SEO strategies and SEO teams
To include the proximity effect in SEO strategy plans, MarketingStat developed a process to map the SEO Space of a website.
The shape of the SEO Space enables us to identify SEO strategies that will attract relevant website traffic.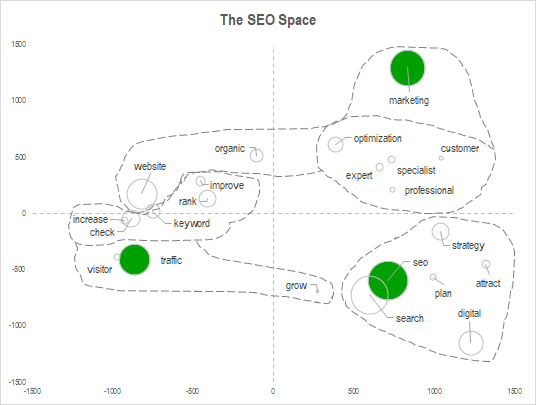 Example of map of an SEO Space.
Mapping the online space where you want to attract an audience relevant to your business involves three competencies:
Data mining, including multivariate statistics and Natural Language Processing (NLP)
Ranking algorithms based on the semantic meaning of text
MarketingStat's SEO teams bring extensive experience in all three areas of competence. Combined, they make it possible to visualize the marketspace where your webpage competes and enables us to identify effective SEO strategies and to measure their impact on website traffic.
When we show our clients their SEO Space and explain the role of information proximity, it is easy for them to understand why the old SEO strategy cannot work: The connections between search words are missing, so search engines do not understand how to classify your page, which results in a bad SERP ranking.
MarketingStat solves the issue by drawing a positioning map that clearly illustrates the search field where your web pages compete.
The result: powerful SEO strategies.
SEO strategies begin from the client's idea of online success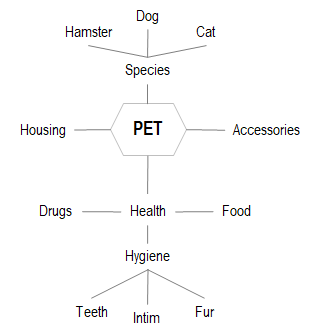 Creating SEO strategies is a team sport, and it begins with the client's idea of what online success means to them.
The goal may simply be website traffic, or the number of keywords search engines relate to a web page, a share of the overall volume of the search space, brand awareness, or any other meaningful metric coherent with the reason the website exists and the brand's communication strategy.
MarketingStat translates the client's basic idea into a Semantic Network, which determines the input data to map the SEO Space.
The SEO Space maps the appropriate search environment for meeting the client's criteria for online success.
SEO strategies need time to become effective
Unlike paid advertising, it takes time for SEO strategies to become effective. This is because search engines need time to complete their indexing of new content.
For an existing page, the time to detect a change is almost immediate. To see an example of this, change the title of one of your web pages, then go to Google and search for that specific page. Your listing will display the new title.
On the other hand, listing a new site takes longer just to add the site address to the index list.
However, what requires really time for SEO strategies to become effective is the work search engines do to associate the characterizing strings in your text content with the prior knowledge they collected from other web pages. For instance, the associations change dramatically between a page relating to "market research surveys" and another page concerning "land surveys".
Until search engines figure out what your page content is about, SEO strategies are dormant. In some cases, it may take several months before significant results are detected.
The good news is that you do not pay recurring fees for SEO, as you do with paid advertising. So, while you are waiting for the new strategy to kick in, there is no additional cost to your business.
SEO strategies must be nurtured over time
Nurturing the SEO strategy means measuring the change in website traffic to replicate what works and improve what doesn't.
As needed, we modify the text to maintain continuous incremental improvement in website traffic.
Do this consistently, and your nurturing effort will bear results. SEO strategies live in an endless loop.
If your business's online presence is understood as a source of business, it makes sense to have a solid, effective SEO strategy in place.
When it comes to SEO strategies, talk to the original, not the copy.
Talk to MarketingStat.
We created the SEO Space concept.